The Galley
Sea Front Takeaway – Robin Hoods Bay
Robin Hoods Bay was first mentioned in the early 1300's and again in 1536 as a "Fisher townlet of 20 boats".
Strong maritime influences can still be felt in the village today, although the once thriving fishing village has declined over the years, a few cobles and small fishing boats can still be seen putting out to sea today
Due mainly to its isolation and surrounding moorlands, in the 18th century, Robin Hoods Bay was reportedly the busiest smuggling community on the whole of the Yorkshire coast. Riddled with bolt holes and abandoned secret passages, it was said a bale of silk could pass from the bottom of the village to the top, without leaving the houses.
Latter day employment in the village became tourism and until the closure of the railway station in the 1960's, people flocked from all over Yorkshire to take in the fine sea air.
In the late 40's and 50's a Tea Hut once precariously stood on the cliff face, accessed by wooden steps. This was removed in 1957 to make way for a new sea wall defence. We are proud to say, after a gap of 60 years, the Tea Hut is back in exactly the same position as the original – now renamed The Galley on the Quarterdeck.
Take a look at our fine menu and enjoy the varied choice of refreshments available – All come with a stunning sea view of the Bay and Ravenscar and a revitalising sea breeze.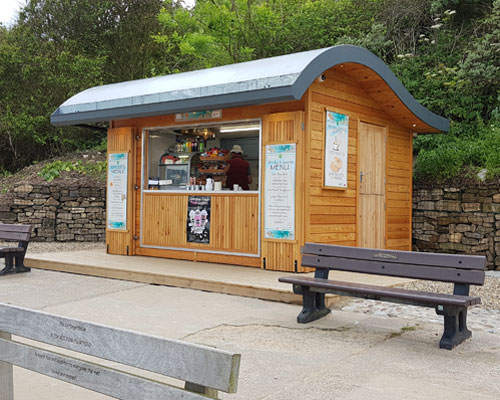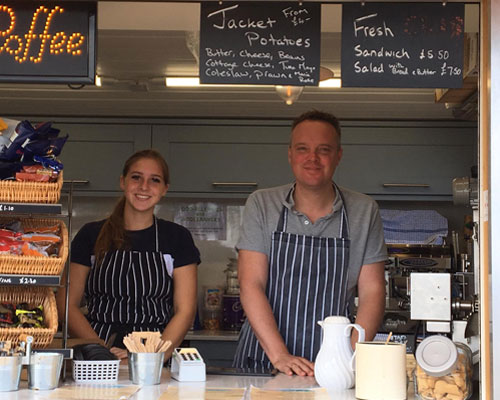 Menu
FRESH CUT SANDWICHES in sliced White or Brown Bread
Cheddar Cheese – add pickle, onion or marmite:
£4.50
Free Range Egg Mayonnaise:
£4.00
Tuna Mayonnaise – add red onion:
£4.00
Ham – Add mustard or pickle
£4.00
Whitby Fresh Crab (When Available)
£7.00
Prawn and Marie Rose Sauce
£4.50
PANINI (hot and toasted) made to order
Cheddar Cheese – add marmite, pickle or baked beans:
£4.80
Ham and Cheddar – Add mustard, pickle, marmite or baked beans
£4.80
Tuna Melt with cheese, add red onion
£4.80
Mozzarella and sundried tomato
£4.80
Mozzarella with pesto and sundried tomato
£4.80
Brie, Walnut and Honey
£4.80
JACKET POTATOES (Home baked)
Just butter:
£4.00
Chedder cheese:
£4.50
Baked Beans
£4.50
Cheddar Cheese and Baked Beans
£4.80
Tuna and Mayonnaise
£4.80
Prawns and Marie Rose Sauce
£5.00
SOUP
Carrot & Lentil: Large
£3.50
Carrot & Lentil: Small
£2.50
Tomato & Garlic: Large
£3.50
Tomato & Garlic: Small
£2.50
Bread & butter
50p
Mushroom Large
£3.50
PLEASE MAKE STAFF AWARE OF ANY ALLERGY REQUIREMENTS WHEN ORDERING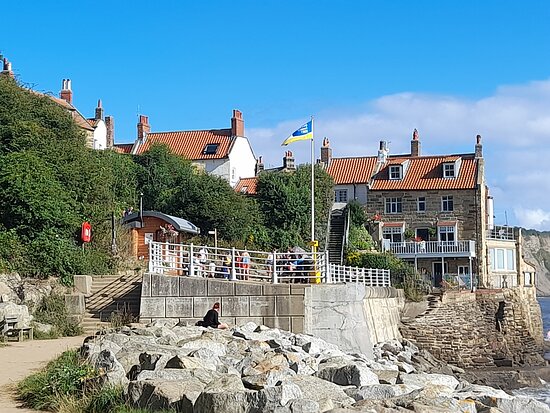 Drinks
HOT DRINKS
Cappuccino
£3.00
Latte
£3.00
Americano
£2.80
Flat white
£3.00
Mocha
£3.30
Espresso
£2.00
Iced Latte
£3.00
Our coffee is made with a double shot, but if you would like triple shot add £0.50. (Milk alternatives available on request)
HOT DRINKS
YORKSHIRE Tea
£2.00
Selection of herbal and fruit Teas
£2.00
HOT CHOCOLATE – On its own
£3.00
Cream and Mini marshmallows
£3.50
Horlicks
£3.00
COLD DRINKS
Bottles 500Ml
£2.50
Water 500Ml
£1.50
MILK SHAKES
Choclolate
£2.00
Strawberry
£2.00
Banana
£2.00
Vanilla
£2.00
Cappuccino
£2.00
Add Cream and Marshmallows
50p
Check the live feed below to see if we are open
Opening Times
Monday
9:00am – 4:00pm
Tuesday
Content
Wednesday
Content
Thursday
Content
Friday
Content
Saturday
Content
Sunday
Content